Vacuum System Kits
The RAPCO vacuum system kit offers a convenient and cost effective pneumatic source for your aircraft's gyro instruments. It is designed as a complete system and comes with everything necessary to operate an attitude indicator and directional gyro (gyro instruments not included in kit). The altitude compensating regulator comes preset to 5"HG or can be adjusted as needed. The vacuum pump has an inspection port for monitoring vane wear. All parts with RA numbers are FAA-PMA approved. The kit weighs 4.5 Lbs. and comes with an easy to follow installation diagram. It offers a substantial savings over purchasing the components separately.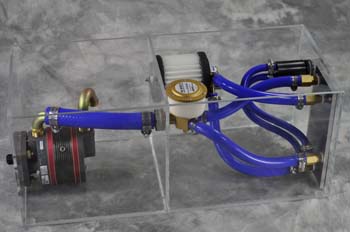 The Kit Includes:
Dry Air Pump with mounting gasket – RAP215CC or RAP216CW
Vacuum Regulator with garter filter - RA2H3-12
Filter Assembly - RA1J7-1   
Fitting pump, 90 degree, 3/8" NPT, 5/8" hose -
RA1K1-6-10
Fitting pump, 152 degree, 3/8" NPT, 5/8" hose - RA1K8-6-10
2 Fittings instrument T, 1/4" NPT, 3/8" hose, and 1/4" hose - RA1K31-4-6-4
2 Fittings instrument straight, 1/4" NPT 3/8" hose - RA1K10-4-6"
Suction Gauge 1" diameter
Hose 5/8" x 3'
Hose 3/8" x 5'
Hose 1/4" x 6'
4 Hose Clamps # 4
10 Hose Clamps # 8
Installation Drawings: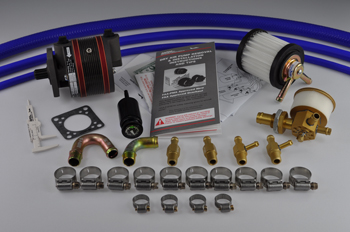 Part number: RAPVAC-K1    
This kit contains an RAP215CC dry air pump with counter clockwise rotation.
Pump rotation is determined as viewed from pilot seat or at back of pump.
Application:
Engines with counter clockwise turning accessory drives on a standard AND20000 mounting pad.
Lycoming O-235, O-290, O-320, O-360, IO-360, O-540, IO-540, Rotax 912, 914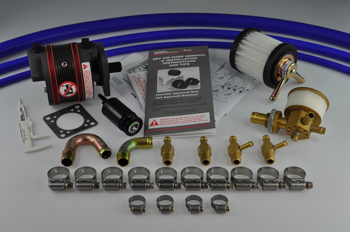 Part number: RAPVAC-K2    
This kit contains an RAP216CW dry air pump with clockwise rotation.
Pump rotation is specified as viewed from pilot seat or at back of pump.
Application:
Engines with clockwise turning accessory drives on a standard AND20000 mounting pad.

Continental IO-240, IO-470, IO-520
Jabiru 2200, 2300